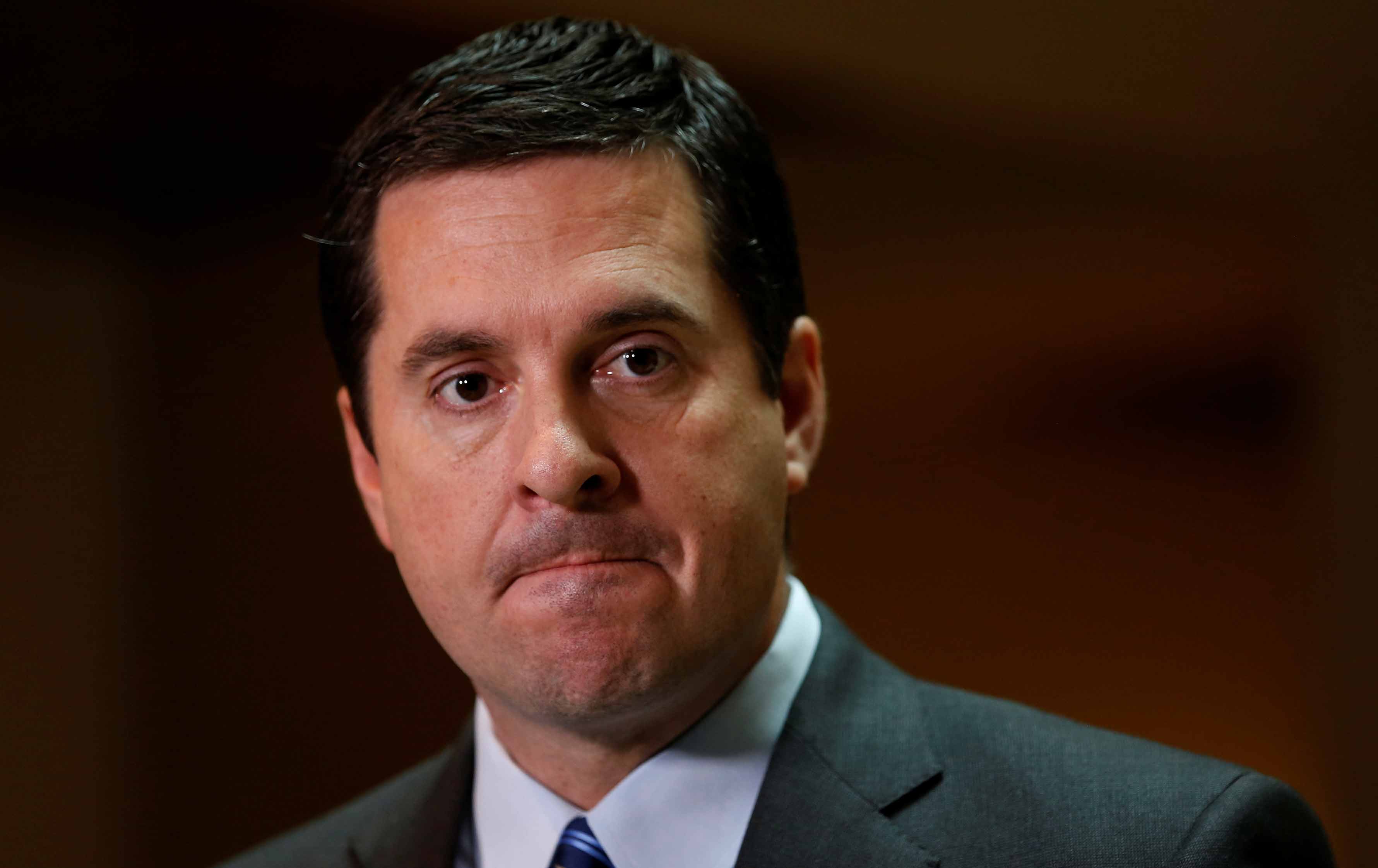 Nunes briefs reporters in Washington, DC, on March 24, 2017. Reuters / Jonathan Ernst
Things went from bad to worse for House Intelligence Committee chairman Devin Nunes (R-Calif.) on Thursday.
Fifteen days after he made a mysterious announcement about incidental surveillance of the President Trump's transition team, Nunes said he would temporarily recuse himself from the panel's investigation into Russian interference in the election, as the House Ethics Committee investigates whether he improperly exposed classified information.
The announcement was a stunning turnaround for Nunes, who less than a week ago had told reporters that "there's not a better person in the House of Representatives to do this investigation than me."
Republican leadership had backed Nunes throughout the scandal — despite a handful of critics within the conference.
And headlines had recently improved for the embattled chairman.
Reports emerged Monday that former national security adviser Susan Rice, who served under President Obama, had sought to learn the identities of Trump transition officials caught up in U.S. surveillance — apparently corroborating Nunes' original announcement.
But the open Ethics probe appears to have sapped that support.
After previously saying that he did not believe Nunes should recuse himself, Speaker Paul Ryan (R-Wis.) said Thursday that he "supported" Nunes' decision. He emphasized that the chair retains his trust but said that the Ethics probe would be a "distraction" to the committee's investigation.
The recusal gives Democrats — who have clamored for Nunes to step down — a major scalp in the contentious investigation.
"I did have plenty reason to think that [Nunes] should not be in that role, both because of his role in the Trump transition and because of his erratic and bizarre behavior as chairman of the committee," Minority Leader Nancy Pelosi (D-Calif.) told reporters.
Committee Republicans kept a conspicuously low profile on Thursday morning as lawmakers prepared to leave town for the two-week Easter recess.
Nunes himself — in a raincoat and jeans — ducked out of Majority Leader Kevin McCarthy's (R-Calif.) office and into a car shortly after the last vote, answering questions with silence.
Rep. Mike Conaway (R-Texas), a senior panel member who will head the investigation in Nunes' absence, would say little more than that the investigation would continue.
A fatigued-looking, unshaven Trey Gowdy (R-S.C.) — who along with Rep. Tom Rooney (R-Fla.) will assist Conaway — declined to answer questions from reporters who cornered him in an elevator after the announcement.
"Y'all have a nice weekend," he said, leaning back on a railing as the doors closed.
Nunes and his allies have characterized the Ethics probe as a political hit job.
"The Democrats should be ashamed of themselves for attacking such a man and unfortunately, it looks like their shame index has been blurred beyond recognition at this point," said Rep. Trent Franks (R-Ariz.).
Nunes said in a statement announcing the recusal that multiple "leftwing activist groups" had filed complaints against him to the Office of Congressional Ethics (OCE). He called the allegations "entirely false and politically motivated."
The Ethics Committee made its own formal announcement just minutes after Nunes announced his recusal.
That panel began its investigation without waiting for OCE, which reviews allegations from outside groups and can refer cases to Ethics for review.
Since he stepped up to the microphone two weeks ago, Nunes has been at the eye of a steadily-intensifying storm.
On March 22, Nunes shocked reporters by announcing during a solo press conference that he had uncovered evidence that information on President Trump's transition team had been incidentally swept up in legal U.S. surveillance.
He provided few details about what, precisely, he had seen, but hurried to the White House that afternoon to brief the president on his findings.
Later, he said that he was concerned that officials had inappropriately sought to learn the names of Trump transition team members — names that are normally "masked" to protect the privacy of U.S. persons caught up in foreign surveillance.
The disclosure immediately raised concerns from lawmakers who said that, by even disclosing the existence of the intercepts, Nunes had inappropriately revealed classified information.
Nunes has said it "appears" that the intercepts were collected under the Foreign Intelligence Surveillance Act (FISA) — but FISA materials are considered classified until explicitly declassified by the agency that made the original designation.
If the National Security Agency (NSA) or the FBI had not declassified whatever records that Nunes referred to, intelligence law experts say, it was possible that he illegally exposed classified information.
But those complaints were quickly overshadowed at the time, after reports emerged that revealed Nunes' sources were two White House staff members — who might presumably have briefed the president on any inappropriate surveillance themselves.
Democrats clamored for Nunes' recusal, arguing that he had acted under pressure from the White House to substantiate the president's apocryphal claim that former President Barack Obama "wiretapped" him.
The uproar effectively halted the committee's work for a week and raised questions about the survival of the probe.
But for a few days, at least, it appeared Nunes might have quelled the storm. He met with ranking member Adam Schiff (D-Calif.) to hammer out a preliminary witness list for the probe and the committee resumed their normal meetings.
That brief calm exploded on Thursday morning with Nunes's announcement. Democrats say they learned about the recusal from news alerts — not in a normal committee meeting that morning that had ended only moments before.
Nunes retains his gavel — and Democrats on Thursday struck a conciliatory note. Schiff expressed his "appreciation" for the chair's recusal and said he looked forward to working with him on other issues.
Many had kind words for Conaway, including some of Nunes' fiercest critics. Rep. Eric Swalwell (D-Calif.) told reporters he "had confidence" in Conaway, while Schiff said he looked forward to working with him.
"I think it will allow us to have a fresh start moving forward," Schiff said.