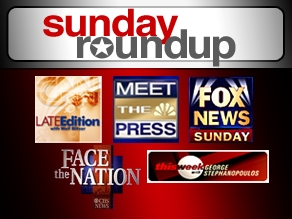 Monday morning, in an effort to distract America from the technical difficultiesplaguing healthcare.gov, President Obama staged a #FalseFaint operation.
Although he did a heckuva job, Obama'smission was not quite accomplished.
Luckily for him, the website's problemspale in comparison to those faced by the Republican party.
No doubt, the biggest issue currentlyafflicting the GOP is the virus known as "the tea party"; as shown in poll afterpoll after poll, it's dragging Republicans down to previously uncharted depths.
Now, I'm no expert, but it seems to me that the GOP's best bet might just be tostart over from scratch.
Morning lineup:
Meet the Press: Ohio Gov. John Kasich (R); Kentucky Gov. Steve Beshear (D); Rep.Peter King (R-NY); Roundtable: Former Sen. Rick Santorum (R-PA), Former Michigan Gov. Jennifer Granholm (D), Neera Tanden (Center for American Progress) and Republican Strategist Alex Castellanos.Face the Nation: Rep. Darrell Issa (R-CA); Sen. Jeanne Shaheen (D-NH); Roundtable:Peggy Noonan (Wall Street Journal), Former Press Secretary to LBJ Tom Johnson, Bob Woodward (Washington Post) and Author Phil Shenon.

This Week: Former Vice President Dick Cheney (R); Sen. John Barasso (R-WY); Sen.Joe Manchin (D-WV); Roundtable: Democratic Strategist Donna Brazile, S.E. Cupp(CNN), Former Vermont Gov. Howard Dean (D) and Bill Kristol (Weekly Standard).

Fox News Sunday: Louisiana Gov. Bobby Jindal (R); Rep. Marsha Blackburn (R-TN); Rep. Xavier Becerra (D-CA); Roundtable: Brit Hume (Fox News), Peter Baker (New York Times), George Will (Washington Post) and Juan Williams (Fox News).

State of the Union: Rep. Mike Rogers (R-MI); Former Obama Health Policy Adviser Dr. Ezekial Emanuel; Rep. John Fleming (R-KA); Ross Douthat (New Yorrk Times);Cornell Belcher (CNN); A.B. Stoddard (The Hill)
Evening lineup:
60 Minutes will feature: the first eyewitness account from a Westerner who was on the ground in Benghazi during the deadly al Qaeda attack on the U.S. consulate (preview); an interview with former Deputy Director of the CIA Mike Morell (preview); and, a backstage look at the Metropolitan Opera in New York (preview).