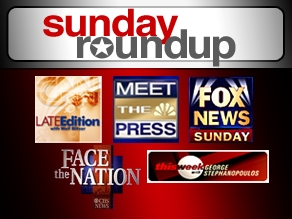 If, as is widely expected, Senators Rand Paul and Ted Cruz should both decide toseek the GOP nomination for president in 2016, the race will be a battle for the heart and soul of the Republican party.
And, more importantly, it will deliver themost epic campaign surrogate match-up in American history.
Rand, a self-certified ophthalmologist, is the son of conspiracy theorist/Russiaapologist Ron Paul, MD—himself a two-time primary loser.
The good doctor's experience with direct mail would certainly be a boon to Rand'sminority outreach efforts; and he'd need all the help he can get on that front.
After all, Ted's outspoken father, Rev. Rafael Cruz, hails from Cuba (and later Canada), which makes Ted a bona fide minority—unlike Rand, who just plays a minority in urban settings.
Morning lineup:
Meet The Press: Israeli Prime Minister Benjamin Netanyahu; Chris Gunness (United Nations Relief and Works Agency); Rep. Paul Ryan (R-WI); Sen. Charles Schumer (D-NY); Sen. Ted Cruz (R-TX); Roundtable: Judy Woodruff (PBS), David Brooks (New York Times), Nia-Malika Henderson (Washington Post) and Ruth Marcus (Washington Post).
Face The Nation: Rep. Mike Rogers (R-MI); Former Secretary of State Madeleine Albright; Ukrainian Foreign Minister Pavlo Klimkin; Roundtable: David Leonhardt (New York Times), Amy Walter (Cook Political Report), Anthony Salvanto and John Dickerson (CBS News).
This Week: Sen. John Cornyn (R-TX); Rep. Henry Cuellar (D-TX); Roundtable: Democratic Strategist Donna Brazile, Rep. Tom Cole (R-OK), S.E. Cupp (CNN) and Former Labor Secretary Robert Reich
Fox News Sunday: Rep. Steve Scalise (R-LA); Israeli Prime Minister Benjamin Netanyahu; PLO Executive Committee Member Hanan Ashrawi; Roundtable: Brit Hume(Fox News), Kirsten Powers (USA Today), George Will (Washington Post) and Juan Williams (Fox News).
State of the Union: House Minority Leader Nancy Pelosi (D-CA); Sen. Lindsey Graham(R-SC); Sen. Chris Murphy (D-CT); Former National Security Adviser Stephen Hadley; Former Rep. Jane Harman (D-CA); Julia Ioffe (The New Republic).
Elsewhere:
A Florida state senator was so impressed by convicted felon Dinesh D'Souza's latest "documentary" that he wants it shown in every school statewide.
Republican Alan Hays, inspired after seeing the movie in theaters, said he now plans on introducing a one-page bill in November which wouldrequire all 1,700 Florida high schools and middle schools to show the movie to their students, unless their parents choose to opt them out. The documentary film is a conservative-spin on American history focusing on elevating the "essential goodness of America" while discrediting criticisms about American's checkered history with civil rights and social justice. It's not completely inconceivable for the bill to pass the Republican-controlled Florida legislature and be signed into law by Republican Gov. Rick Scott."I saw the movie and walked out of the theater and said, 'Wow, our students need to see this.' And it's my plan to show it to my colleagues in the legislature, too, before they're asked to vote on the bill," Hays said.