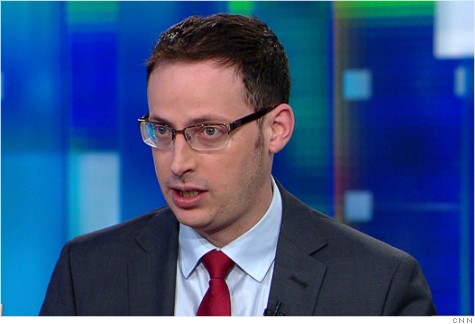 What was it Bill Clinton said at the 2012 Democratic National Convention: arithmetic!"
Nate Silver has done "arithmetic" for a few years now and with uncanny accuracy in sports and politics.
Across the media and twittersphere Tuesday night, Nate Silver was a clear winner in the 2012 presidential election. The polling data guru, who runs the fivethirtyeight.com blog for the New York Times, saw sales of his book spike as a result.
Sales of the book, "The Signal and the Noise: Why So Many Predictions Fail – but Some Don't"  shot up 850% on Amazon.com (AMZN, Fortune 500) during the last 24 hours. It is now the second best-selling book on the site, behind only popular children's book, "The Third Wheel, Diary of a Wimpy Kid Book 7."
On his blog fivethirtyeight.com, Silver compiles and analyzes polling results from all different sources to estimate how many of the 538 electoral votes each presidential candidates will win.
His work allowed him to essentially call all 50 states correctly in [Tuesday] night's vote.  He correctly predicted the 49 states called by the networks Tuesday, and estimated that Florida would be essentially tied with Obama having a very slight edge. Four years ago he correctly predicted 49 of 50 states, missing only Obama's narrow win in Indiana.
While many political reporters and pundits had insisted the race was too close to call, or predicted challenger Mitt Romney would win, Silver's final estimate was that President Obama had a better than 90% chance of re-election, because of how he would fare in the electoral college.
And as results flowed in Tuesday night, praise for Silver was widespread.